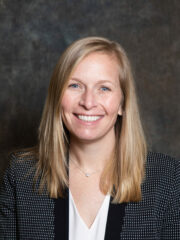 Kim Hanson is a Project Manager and Tunnel Design Engineer with Hazen and Sawyer in Raleigh, North Carolina. Hazen and Sawyer currently has 1,500 employees in 65 offices across the country where they focus on water, wastewater, and stormwater engineering.
Kim manages and coordinates the workload for the company's tunnel design team and is also involved in Hazen's Construction Management group, which she considers invaluable experience in developing practical and constructible designs. Kim is a registered professional engineer in both North Carolina and Texas and has over 10 years of experience working in surveying and engineering. She is currently working towards obtaining her Certified Construction Manager (CCM) certification. Before joining Hazen and Sawyer, Kim served in the United States Navy working internationally as an IHO Certified Hydrographic Surveyor.
Kim has her B.S in Ocean Engineering from the United States Naval Academy and Master of Civil Engineering from North Carolina State University.
She is an active member of NASTT and currently serves on the No-Dig Planning and Technical Program Committees, as a No-Dig Show Track Leader, and as the Vice Chair of the Silent Auction Committee. She is also an active member of the American Water Works Association (AWWA) and has volunteered with Water for People since 2015, organizing the North Carolina Committee's annual 5k Race and Silent Auction fundraisers. She currently serves as the Vice Chair of the NC Chapter of Water For People.
Outside of the office, Kim volunteers as a Blue and Gold Officer (admissions representative) for the United States Naval Academy and coaches Little League Softball.