Tom Iseley has a difficult time establishing when he was first introduced to the underground infrastructure industry but he does remember when he was first officially employed as a laborer on a sewer pipeline project.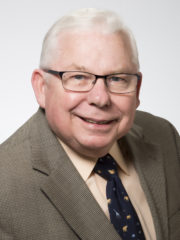 It was at the age of 12 when he and his brother (age 13) were inducted to assist their father in building brick manholes in Alabama. At that time, Tom was not all that thrilled to spend his summer tossing brick at his father while his friends were playing games; but now he realizes what an honor it has been to have his career begin working with his father and grandfather.
After high school, he followed his grandfather's recommendation to pursue civil engineering. This was accomplished at the University of Alabama in Birmingham (UAB) while working for a consulting engineering firm which specialized in the design of water and wastewater treatment plants and pipeline conveyance networks.
Tom's undergraduate education was interrupted due to required military service during the Vietnam War. Tom served 4 years in the U.S. Coast Guard (USCG). He advanced to lead aviation electrician and air crewman on helicopters which supported Operation Deepfreeze. He made cruises to the Antarctic and Arctic regions on USCG Ice Breaker Cutters.
He returned to UAB, completed the BSCE program and MBA program. He and his father formed a utility construction firm just before a national economic downturn which provided an opportunity for Tom to transition to an academic position at Mississippi State University (MSU).
After four years as an assistant professor at MSU, he moved to Purdue University where he obtained a Ph.D. in civil engineering and begin to focus on trenchless technology. In 1988, he accepted a faculty position at LA Tech with a vision to establish an industry/academic/government cooperative research center – TTC. After serving as director of TTC, he served in other academic and industry positions including as a senior advisor to the commissioner of the Department of Watershed Management for the City of Atlanta. In July 2014, he returned to TTC to serve as the director. He has established a strong program for TTC in China and recently was appointed for a 3-year adjunct professorship at the Xi'an Jiaotong University.