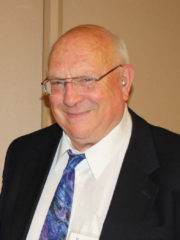 It's not a surprise to people who knew Rod Sutliff that he was responsible for nearly a dozen game changing innovations in the CCTV pipeline inspection industry. He cultivated these innovations after retiring from a variety of entrepreneurial ventures. He began in his parent's garage repairing the family television. In high school, Rod won first prize in the 1951 national Industrial Arts Awards sponsored by Ford Motor Company. The following year, Rod won the Coast Electronic Supply Contest by building a 20-inch television set. In his early twenties, he taught college electronics with just his high school diploma. One of his notable endeavors was engineering harnesses for NASA's Jet Propulsion Laboratory at CalTech. He was also a pioneer in solar heating and cryogenics, which spawned numerous innovations and patents.
One afternoon, in the spring of 1984, Rod's son, Tom (currently an RST distributor) approached him with a problem. His customer desperately needed a CCTV inspection camera and his current supplier couldn't manufacture the product by the deadline.
Although most people might consider this request for help a tall order for any engineer, Tom knew his father could never resist a challenge. He also knew that the demand for CCTV inspection systems was on the verge of rapid growth. That day, Rod came out of retirement, formed R.S. Technical Services, and began to revolutionize the CCTV industry.
His keen understanding of what the industry needed to be successful lead to a string of innovations including the first mainline color camera featuring internal lights (and sturdy filament-type bulbs), the first true pan-and-tilt camera with tracking lights, a cable reel with electrical gear selection, a time-saving tractor design with freewheeling capability for rapid returns, and, of course, an electronic circuit to double a tractor's torque without increasing power consumption. Rod also developed a steerable storm drain tractor and an explosion-proof camera.
As an innovator, Rod looked ahead as he developed his equipment, knowing that there would be an increasing need for more functionality in the future. He stepped away from convention and developed his equipment using Single Conductor Technology, which delivers multi-function capability, power, video and RST's trademark durability. Rod Sutliff was a member of NASTT since 2006.
Rod was taken from his family, and the industry, suddenly in August 2014. While his family will miss his presence and zest for life, they will continue his quest for innovation at RST and carry the company forward. They believe Rod is rewiring heaven right now. So, if the stars look a little brighter, you know who's responsible.