Ian Doherty's introduction to trenchless was the 1988 ISTT No-Dig Show, Washington about 30 years ago now.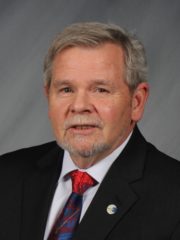 Ian Doherty's introduction to trenchless was the 1988 ISTT No-Dig Show, Washington about 30 years ago now. At that time Ian was an engineer with a Canadian plastic pipe manufacturer looking for new product lines. A year later he was in the UK touring Rolldown lining installations. By 1991, well hooked on trenchless, Ian was managing a Canadian contractor installing HDPE fold/form liners. While that learning endeavor ended in late 1993 the attraction to trenchless continued.  In 1994 following a short stint Swagelining Ian started as an independent engineer providing trenchless rehabilitation engineering to municipalities, contractors and manufacturers. His first project was a water pipeline sliplining rehabilitation. This project was presented at No-Dig 95 and was the only paper on pressure pipeline rehabilitation.
In 1995 Ian incorporated Trenchless Design Engineering and for the last 22 years has focused solely on the trenchless rehabilitation of existing pipelines with the exception of a few directional drilling and pipe bursting projects in the early years. Over the 22 years Ian has designed rehabilitations, including most lining methods, for both non-pressure and pressure pipes. Many rehabilitation specification, tender and RFP documents were written for municipalities and others. Equally important Ian believes, is the extensive design, engineering and troubleshooting he provided to many CIPP and other trenchless installation contractors in Canada, USA and Mexico. This mix of experience helped Ian identify issues to be tackled from both sides of the construction contract, a useful perspective for realizing success in trenchless rehabilitation projects. Since 2010 these projects have included extensive experience with UVC CIPP.
Ian has been a member of NASTT since 1991. He has served on the ASTM F17-67 trenchless technology sub-committee. He has presented or co-authored 13 papers at NASTT No-Dig conferences from 1995 to 2016. He has been a volunteer instructor for the NASTT CIPP Best Practice Course and for the CIPP Design course before that. In 2000, Trenchless Design Engineering shared a Canadian Consulting Engineering award for pressure pipe rehabilitation. For 2015 Ian received the CATT Award of Excellence for outstanding service to the trenchless industry. He is one of the co-authors of NASTT's 2015 CIPP Good Practices Guidelines manual. Ian received his engineering degree from the University of Toronto and is a registered Professional Engineer in Ontario Canada.