Bernard P. Krzys is the founder of Benjamin Media, Inc., publishers of Compact Equipment, NASTT Trenchless Today, North American Oil & Gas Pipelines, Solar Builder/Wind Builder, Trenchless Technology, TBM: Tunnel Business Magazine, Utility Contractor and Water Utility Infrastructure Management (UIM).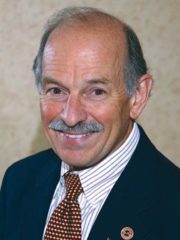 Bernie's media background spans over 20-plus years, including a senior executive position with Harcourt Brace Jovonavich (at that time, a NYSE company).
Bernie also has considerable background in manufacturing and utility construction. He served as the President of American Augers, Inc., (now part of Astec Industries, Inc.) and was a senior executive with Technicare Corporation, a medical equipment manufacturer that later became part of Johnson & Johnson. Bernie additionally had an extensive career as a management consultant with Arthur Andersen & Co. (now Accenture). He was the 2005 Associate Member of the Year for the National Utility Contractors Association (NUCA), has received the Chairman's Award from the North American Society for Trenchless Technology (NASTT), and has received an Industry Achievement Award from the Power & Communications Contractors Association.
Bernie has served on various boards of directors including NASTT, NUCA, the Trenchless Technology Center, the Centre for the Advancement of Trenchless Technology, a predecessor association to the Association of Equipment Manufacturers, a $100 million utility contractor, and an off-shore product liability insurance company.
Significant trenchless industry accomplishments by Bernie include: while at American Augers, established the company's position in the mini and maxi HDD rig market, launched the company into microtunneling with German manufacturer Soltau, was the driving force for manufacturers in developing nomenclature and safety standards for auger boring machines, and strengthened the company's international presence in Europe. He started Trenchless Technology in 1992 – – now the No. 1 trenchless publication in the world; introduced trenchless seminars in 1993 and to this day Benjamin Media continues as one of the leading trenchless educators in the world; launched the popular HDD Rodeos in the late 1990s; led Benjamin Media to assume management responsibility for the No-Dig Show from 2001 to the present – – a partnership that has seen the Show achieve record success; spearheaded the creation of the annual Education Auction held at each No-Dig, which has raised more than $400,000; and has traveled extensively in North America and internationally visiting trenchless project sites and events promoting trenchless technology.
Bernie has a Bachelor's Degree in Business Administration and Professional Accounting and is a Distinguished Military Student graduate from Kent State University. He served in the U.S. Army as a Finance Corps Officer extensively involved in computerization and is a recipient of the U.S. Army Commendation Medal. Bernie is a CPA registered in the state of Ohio.