Frank started with Baroid, in the oilfield, in 1975. After training in Houston, he was transferred to the Rocky Mountains where he worked for 14 years, living in New Mexico, Wyoming , and Colorado.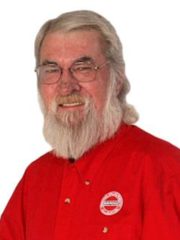 In 1989, he left the oilfield group to work in what is now Baroid Industrial Drilling Products. At that time, he was working primarily in the water well industry covering the South Central U.S. In 1992, Frank was awarded the Texas Water Well Association's Man of the Year Award for his work in the water well industry.
In 1991, he started receiving calls about a new drilling discipline (at least it was new to him) – trenchless technology. He took on the challenge of learning about this new and evolving industry and primarily focused on HDD, micro-tunneling, auger boring and pipe bursting segments. Over the next several years, he was involved with manufacturers and contractors in
learning what was needed for drilling and lubrication fluids for the trenchless industry. He then started sharing the information and experience he obtained in solving the many problems and situations he encountered through seminars and training sessions. Contractors and project managers worldwide have come to appreciate the expertise of the tall, red coverall clad consultant from Houston.
In 2000, Frank was awarded the Trenchless Technology Person of the Year Award at NASTT's No-Dig Show in Orlando, Florida. The following year, Frank joined the NASTT Board of Directors and served until 2005. In 2010, Frank was awarded the North East Trenchless Association's Founder's Award.
Frank is recognized as an industry leader and continues to conduct seminars, training sessions and working with equipment manufacturers and contractors worldwide. He lives with his wife Mary Ann in Magnolia, Texas (". . . home of the tall women and virgin pines . . .").