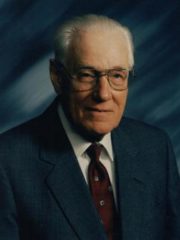 He is known for his innovation and contributions to the agricultural and industrial equipment industries, and for his philanthropic efforts that touch lives locally and around the globe.
He was born on September 29, 1918, in Pella, Iowa, to Jacob and Anna; the first of four sons. Vermeer married Matilda Van Gorp on February 14, 1941 and in 1953, they set up their home on a nearby 120-acre plot of land. Their farming and business endeavors expanded throughout their marriage as they raised their family of Stanley, Mary and Robert.
In 1948, five years after he invented a mechanical wagon hoist to unload corn with more ease, Gary and a cousin first opened the doors of Vermeer Manufacturing Company. Through the years, the company grew into an international organization, spanning nearly every continent. It grew to comprise approximately 600 independently-owned industrial and agricultural equipment dealership locations worldwide.
Gary made several contributions to the agricultural industry and focused on ways of laying tile and draining farm fields. That launched Vermeer into the world of trenching products. Gary was a strong supporter of pursuing trenchless drilling methods and markets that were new to the industry. By the early 1990s, horizontal directional drilling was the company's leading product line and is a mainstay of Vermeer equipment offerings today. Gary's
desire to find a better and more efficient way of doing things paved the way for Vermeer to eventually enter and become a leader in a variety of markets, including environmental, underground installation, specialty excavation and others.
In 1958 Gary established the Vermeer Charitable Foundation by setting aside a portion of his company's profits to alleviate poverty, make strides in education, emphasize health, and, as he was a devoutly religious man, spread the influence of a deeply-rooted faith. The Foundation's reach extends throughout the world sponsoring scholarship programs, providing disaster relief, building hospitals and recreational opportunities, and championing environmental causes.
Throughout his life and thereafter, Gary Vermeer received numerous awards including the Iowa Inventor of the Year Award. He was inducted into the Iowa Business Hall of Fame, the Construction Equipment Hall of Fame, and the Iowa Inventor's Hall of Fame.
On February 2, 2009, Gary Vermeer passed away at 90 years of age. His legacy continues through his family members, who honor his legacy by leading Vermeer in taking care of customers worldwide with better solutions.