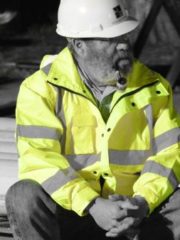 For 27 of those years, Ron was a leading figure in the Horizontal Directional Drilling industry. He helped innovate many of the procedures currently being used by HDD contractors and consultants throughout the world.
Ron presented numerous papers at industry conferences such as NASTT's No-Dig Show, UCT, ASME and ICC. He has also had several articles published in many different trade journals, including Trenchless Technology, No-Dig International, World Tunneling, Pipe Line Industry and Pipeline & Gas Journal. He holds a patent entitled "Apparatus and Method for Recirculating Mud When Drilling Under an Obstacle," and has applied for a patent on the Mud Recovery System to be discussed at this year's Power Delivery Design Conference.
Ron was a Registered Professional Engineer and served as the Director of Horizontal Directional Drilling for the Mears Group.