NASTT's Free Webinar Series: Pipe Bursting
09/18/2019
---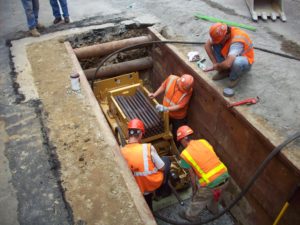 NASTT's Pipe Bursting Webinar
Wednesday, September 18
2:00 PM EDT
This webinar will host a discussion on pipe bursting with the intent to educate owners and their agents of the benefits of this proven, alternative trenchless technology.
Industry experts from the NASTT membership will be presenting this complimentary webinar:
Alan Ambler, PE, LEED AP, AM Trenchless (Moderator)
Matthew Timberlake, Ted Berry Company LLC
Michael E. Woodcock, Portland Utilities Construction Company, LLC
Designed to share the many benefits of trenchless technology, NASTT's complimentary webinar series welcomes industry newcomers and seasoned veterans alike. The program is modeled to bring you professional instruction from leading experts in the field of trenchless technology. The content of all NASTT training is peer-reviewed, consensus-based information and free of commercialism.
Click here to register for FREE!
---