NASTT's Pipe Bursting Good Practices Course- Sugar Land, Texas
10/05/2020
---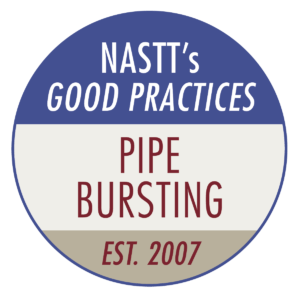 NASTT is pleased to co-sponsor our Pipe Bursting Good Practices Course with the South Central Chapter  and their 2020 NASTT South Central Trenchless Technology Conference (TTC).
Join industry professionals who can train your inspectors or employees on the latest methods. Sponsored by the City of Houston and City of Sugar Land, TX.
The NASTT Pipe Bursting Good Practices Course provides an overview of pipe bursting and covers four topic areas: (1) the types, methods and application of pipe bursting; (2) planning and preliminary design of a pipe bursting job; (3) design and construction considerations; and (4) troubleshooting and problem solving.
Date: October 5, 2020, 8:00AM – 5:00PM
Location: Houston Marriott Sugar Land | Sugar Land, TX
Cost:
Municipalities & State Agencies: $325 early bird before 07/31/20, $375 late & onsite
Private Employees: $425 early bird before 07/31/20, $475 late and onsite
Contact: Michelle Hill | mhill@nastt.org |888-993-9935
The following expert, volunteer instructors from the NASTT membership will teach this course:
Edward "Alan" Ambler is the owner of AM Trenchless LLC. and has 18 years of experience
working on various engineering projects. While an employee at the City of Casselberry, Florida,
Alan managed the day to day operations of a municipal utility while developing the capital
improvement program and executing projects. Alan has designed over 370,000 linear feet of
pipeline projects and is a national leader in trenchless technologies, such as pipe bursting. Alan
is the Chair of NASTT's Pipe Bursting Center of Excellence and a co-author of the Pipe Bursting
Good Practices Guidelines, 3rd Edition. Alan has a BS in Civil Engineering, a MS in Environmental Engineering and holds two patents.
Michael Woodcock is the Vice President of Portland Utilities Construction Co, LLC. For over 25
years he has dedicated himself to learning from and educating others about the complex
technologies related to replacing and rehabilitating underground pipe infrastructure, primarily
with pipe bursting and CIPP. He is the Vice Chair of the NASTT's Pipe Bursting Center of
Excellence. Michael has a BA in Finance and a MBA in in Business.
Click here for registration information
---