NASTT's Pipe Bursting Good Practices Course – VIRTUAL
06/22/2022 – 06/23/2022
---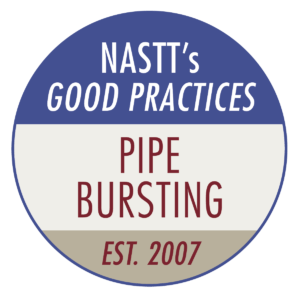 Join us for virtual training!
Pipe bursting is the perfect no-dig process to replace an existing line with a completely new, larger pipe — without excavating. This construction technique is recognized as one of the only methods of trenchless rehabilitation that replaces an existing line with a completely new pipe, providing a total pipe replacement and allows for the replacement of an existing pipe with a new line of equal or larger diameter — to maintain or increase flow capabilities.
Day 1: June 22, 2022, 11:00AM – 3:00PM (Eastern) – Breaks provided
Day 2: June 23, 2022, 11:00AM – 3:00PM (Eastern) – Breaks provided
Location: Virtual webinar format
Contact:
Kari Schiffner
kshiffner@nastt.org
888-388-2554
Cost: $300.00. Fee includes attendance to the course, course handouts (training manual and NASTT Good Practices Guidelines book) and a Continuing Education Unit certificate issued by Louisiana Tech University. The digital training manual will be sent prior to the course. The companion book will be sent afterwards.
The following volunteer experts from the NASTT membership will teach this course:
Dr. Alan Atalah, Professor of Construction Management at BGSU; Jennifer Glynn, P.E., Senior Technical Practice Lead and Principal for Woodard & Curran; and George Mallakis, Regional Manager for TT Technologies, Inc.
Moderated by: Dr. Jason Lueke, National Practice Leader for Trenchless Services with Associated Engineering
---