NASTT Announces 2022 Outstanding Trenchless Paper Awards
September 28, 2022 by NASTT Staff
---
The North American Society for Trenchless Technology is pleased to announce the winners of the 2022 NASTT Outstanding Trenchless Paper Awards for New Installation and Rehabilitation. These awards recognize excellence by commending authors of the best NASTT No-Dig Show papers each year. The winning papers were presented at the NASTT 2022 No-Dig Show.
2022 Outstanding Paper: New Installation
Comparison of Observed and Predicted Settlements: City of Dubuque Bee Branch Parallel 101" Microtunnels Under Canadian Pacific Railyard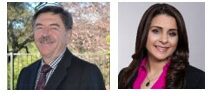 David Bennett, Ph.D., PE, Bennett Trenchless Engineers, Folsom, CA, United States
Sandie Dudley, PE, Bennett Trenchless Engineers, Folsom, CA, United States
Dave Bennett's engineering practice, Bennett Trenchless Engineers, focuses on trenchless technology. With expertise in geotechnical evaluations, microtunneling, tunneling, HDD, and pipe bursting and experience in conducting feasibility studies, preliminary designs, design/constructability reviews, providing permit assistance and preparing plans and specifications, prequalification packages, and instrumentation and monitoring plans, Bennett knew from the get-go that this project would be worth talking about. "I felt strongly from the beginning of the project negotiations with the Railroad regarding permitting concerns that the extensive settlement monitoring program they required would provide valuable data and insights for design professionals," Bennett explained.
Sandy Dudley, who was mentored early in her career by NASTT member Jennifer Glynn, brought her experience in conveyance infrastructure, geotechnical and environmental engineering and design and construction to the project. "Jenn was the first of many great trenchless mentors I've had over the years. My advice to folks starting out is that the trenchless industry is full of experienced people who are eager to share their knowledge and engage newcomers – take them up on their willingness to share what they know every chance you get." Presenting at the No-Dig Show is one way Dudley is sharing what she knows and connecting with other trenchless professionals. You can also connect with Dudley in Honolulu in December when she runs her eleventh marathon!
Both Dudley and Bennett are honored to receive the award noting that there are so many excellent papers at the NASTT No-Dig Show. "Quality has reached an apex," Bennett says. They would also like to acknowledge others who contributed to the success of the project, including Eric Vieth and Mike Jansen with Strand and Deron Meurhing and Steve Sampson-Brown with the City of Dubuque.
Comparison of Observed and Predicted Settlements: City of Dubuque Bee Branch Parallel 101" Microtunnels under Canadian Pacific Railyard is featured in the Fall 2022 issue of Trenchless North America.
2022 Outstanding Paper: Rehabilitation
CIPP After 50 Years: A Framework to Estimate Realistic Design Life Expectations



Chris Macey, P. Eng., AECOM, Winnipeg, MB, Canada
John Gumbel Ph.D., CEng, MICE, JG Pipeline Consultancy Ltd, Winchester, United Kingdom
Lynn E. Osborn, P.E., LEO Consulting, LLC, Dardenne Prairie, MO, United States
With more than 125 years of industry experience between them, its no surprise that the combination of trenchless legends Chris Macey, John Gumbel and Lynn E. Osborn produced an award-winning paper and one of the highest attended sessions at the NASTT 2022 No-Dig Show. "I grew up in a place where trenchless technologies were practiced long before we had the word 'trenchless,'" shares Macey.  "It's all I have ever known."  Osborne worked with sliplining and pipe jacking road crossings in the 1970s and became aware of CIPP in the early 1980s. "I visited a CIPP project and knew I had to become a part of pipeline trenchless technology," Osborne recalls. Gumbel was getting into the industry around the same time working as a specialist in buried pipeline design. "I was consulted by Insituform in the UK to review the basis of their design of CIPP sewer linings," Gumbel said. "It struck a chord and led to my recruitment into the industry that I have never since left."
All those years led to some realizations they agreed had to be addressed. Osborne explained, "We knew that the industry needed to know more about the longevity of CIPP and other pipeline rehabilitation materials.  There are many misconceptions in our industry.  At some point engineers need to be engineers." The paper discusses solving problems in a logical manner, using common sense and the building blocks laid out by previous generations of engineers. Macey reminds professionals that you can't just look up answers about the design life of a rehabilitation produce or pipe in a book. "It's a process and it involves doing some true engineering.  We can make things fail in a very short time by not doing our jobs or we can make them last for a very long, long time periods by simply doing our jobs."
When asked who else they'd each like to acknowledge, it was certainly a mutual admiration society – each one mentioning the impact they had on one another, their years of friendship and pursuit of life-long learning together. In addition, Osborne gives special recognition to Eric Wood, the inventor of CIPP and a member of the NASTT Hall of Fame (2013). "I had the privilege of working with Eric for ten years before his life was tragically ended by a plane crash.  Out of his work grew a great industry."
CIPP After 50 Years: A Framework to Estimate Realistic Design Life Expectations was featured in the Summer 2022 issue of Trenchless North America.
The winning papers (and all the NASTT No-Dig Show papers) are available in the NASTT product store .
Authors of both papers will give encore presentations at the NASTT 2023 No-Dig Show in Portland, Oregon. Visit the conference website.
---