NASTT Selects 2022 Ralston Young Trenchless Achievement Award Recipient
March 15, 2022 by NASTT Staff
---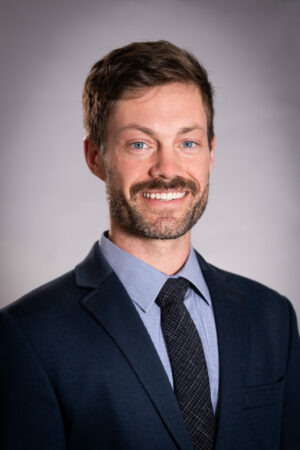 The Ralston Young Trenchless Achievement Award applauds savvy members under 36 who demonstrate excellence early in their careers by making valuable contributions to the trenchless technology industry and NASTT.
Please join NASTT in celebrating the 2022 recipient: Matthew Olson, P.E., Partner at Lithos Engineering in Denver, Colorado.
Young Trenchless Achievement Award Selection Committee Chair, Chris Sivesind, Territory Manager at Akkerman and NASTT staff made a surprise call to Matt to share the news. "His accomplishments were very impressive among a pool of excellent candidates." Chris said.
Matt Olson lives and breathes NASTT's mission to be the premier resource for knowledge and education in Trenchless Technology, according to Lance Heyer, Associate at Lithos Engineering, who was thrilled to nominate Matt. "Trenchless is truly in his blood," he said, referring to Matt's father who was a trenchless new installation contractor with Bore Masters in Pewaukee, WI. Matt's academic career included a thesis on pilot tube jacking forces.
"Matt truly embodies the spirit in which this prestigious award was meant to represent with an astounding track record of service and dedication to the trenchless industry," says Matthew's former Master's Program co-supervisor, Samuel T. Ariaratnam, Ph.D., P.E., Professor at the Ira A Fulton School of Engineering, Arizona State University.
Matt's interest and drive for research and development leads him in educating other industry professionals about trenchless technologies. Matt is a "fantastic resource for sound engineering advice" notes Robert Meadows President, Global Underground Corporation. "His ongoing drive to understand and further advance the trenchless engineering and construction industry truly is special and will benefit the trenchless industry at large for many years to come."
As a NASTT volunteer, Matt has served on the Rocky Mountain Chapter Board, No-Dig Show Technical Program Committee, participated as No-Dig Show track leader and has chaired the NASTT Young Professionals committee and judged the Student Poster Competition at the No-Dig Show.  He has six technical papers in the NASTT technical paper library, including "Pipe Ramming Through Challenging Subsurface Conditions in the Pacific Northwest" and  "Into the Void: Case Study of an Emergency Pipe Burst Beneath the West Seattle Bridge" which won the NASTT Outstanding Paper of the Year in 2016 and 2017 respectively.
Matthew Izzard, NASTT Executive Director, thanked Matt for his NASTT involvement and his enthusiasm and for being among the cream of the crop of young trenchless professionals. Special recognition of Matt and all the 2022 NASTT award recipients will take place at the NASTT No-Dig Show in Minneapolis where Matt will present "Impacts of HDD Design Modifications After Municipal Bid Award" with Lance Heyer.
Join Matt and other trenchless professionals in their 20s and 30s at the complimentary Young Professionals Networking Night on Sunday, April 10 from 7:00 – 9:00 PM in Room 208B.
---