North American Society for Trenchless Technology Announces Innovative Product Award Winners
July 26, 2022 by NASTT Staff
---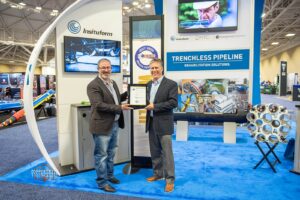 The North American Society for Trenchless Technology (NASTT) announced the 2022 Abbott Innovative Product & Services Award winners at the NASTT 2022 No-Dig Show at the Minneapolis Convention Center in Minneapolis, Minnesota. The Abbott Innovative Product & Services Award celebrates companies with a state-of-the-art product or service making a significant impact in advancing the trenchless industry in the areas of rehabilitation or new installation.
The selected winners met the highest-level of standards for each category. Products were judged on Innovation (concept, method, development); Value (need, advantages, cost); and, Impact (sustainability, social/environmental responsibility and potential).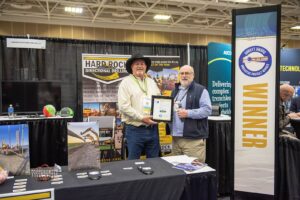 "Honoring those who successfully implement outstanding projects that can bring transformative change to trenchless technologies provides industry-wide recognition of their approach to address the needs and priorities of the industry and their customers," said Matthew Izzard, NASTT Executive Director. "The Innovative Product & Services Award is a testament to the skill, ingenuity and vision of the creative teams that research, develop, design, market and operate these products."
Winners
In the category for New Installation, the award was given to Boyd Tech, Inc. for its B-Tech Connections.  A means to mechanically connect HDPE piping for pulling, pushing and transitions, B-Tech Connections provides a pipe-to-pipe connection wherein ID & OD remain the same. Either permanently locked or temporarily installed, connections are water-tight with a broad range of applications in trenchless and non-trenchless applications. Long life span, fast assembly times, make this connection method, efficient and cost-effective for any HDPE project or application. For more information, contact  Sam Boyd, President at samboyd@boydtech.us or visit https://boydtech.us/.
In the category for Rehabilitation, the award was given to Insituform, an Aegion LLC brand, for its CIPP Carbon Filter System, a carbon filtration solution for CIPP steam-cured product that exhausts Volatile Organic Compounds (VOCs) and accompanying odors. The innovative filtering system uses selected carbon and other filtration media in a filter canister design to capture the VOC. This device will significantly reduce or eliminate (depending on the diameter of the CIPP installation) the amount of VOCs from the emissions. Potential reduction of reportable greenhouse gas emission is greater than 90 percent.  For more information, contact Dennis Pivin, VP Environmental, Health, Safety and Security, at dpivin@aegion.com or visit aegion.com
Finalists
NASTT also honors the finalists in each category:
New Installation
Ditch Witch for AT32 All-Terrain Direction Drill | ditchwitch.com
Herrenknecht AG for AVN 800 HR – MTBM | herrenknecht.com
LaValley Industries for PITPUMP™ powered by the EMPOWER™ electric generator | lavalleyindustries.com
Primus Line for Primus Line® Overland Piping | primusline.com
Subsite Electronics for Marksman™ HDD Guidance System | subsite.com
Rehabilitation
AppliedFelts for Envirocure | appliedfelts.com
Aries Industries for Wolverine 2.0 | ariesindustries.com
Electro Scan Inc. for Electro Scan KINGFISHER | electroscan.com
HammerHead Trenchless for Next Generation Bluelight LED CIPP System | hammerheadtrenchless.com
HK Solutions Group for Monoform PLUS | hksolutionsgroup.com
Nukote Coating Systems International LLC for 360 Ringtech Robotics | nukoteindustries.com
PipeFusion CIPP for PipeFusion Xtreme | pipefusioncipp.com
Waterline Renewal Technologies – LMK Technologies for UV T-Liner Shorty | waterlinerenewal.com
Presentations about each product were made at the Innovative Products Forum at the NASTT 2022 No-Dig Show and are available online via the NASTT YouTube channel. The winners will also be featured in the summer issue of Trenchless North America, NASTT's essential read for trenchless professionals. To learn more about NASTT awards, visit nastt.org/awards. The award is named for the late Joseph L. Abbott, Jr., an active NASTT member since its founding in 1990 and a champion of innovation.
---