Pipe Lining Supply's Introduction to the Quik‐Coating 2020 System
December 16, 2019 by NASTT Staff
---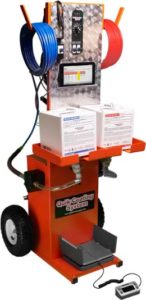 January 2020 – Pipe Lining Supply introduced its Quik‐Coating System in 2017. Today we are happy to announce the Quik‐Coating 2020 System. This system has the exact same core functionality as the initial model with a few exterior changes that have been requested from our customers. These items include a
shorter unit (to fit in a standard cargo van), a stainless steel control plate, a scale shelf, a 4‐plug power strip, a powder‐coated (painted) frame and a tablet with important documentation pre‐loaded (no WiFi necessary).
Pipe Lining Supply is dedicated to research & development of all equipment and materials. This equipment improvement comes from many test trials and customer feedback. Being a leader in the industry is Pipe Lining Supply's top priority.
About Pipe Lining Supply:
Pipe Lining Supply is a leader in the distribution of materials and equipment used in the lateral sewer lining and DWV rehabilitation businesses. The company was formed to support customers who need training and support as well as the equipment and materials to rehabilitate aging sewer laterals. Our
goal is to serve the industry with a complete warehouse stocked with the best products at the lowest delivered cost on a timely basis.
Our staff has many years of plumbing, excavating, pipe bursting, DWV coating, and, CIPP lining experience to share with its clients. Customer support is our #1 goal, we train and support installers throughout the USA to be the most knowledgeable and efficient in their goals.
For More Information:
Call: 888‐354‐6464
Visit: www.pipeliningsupply.com
Email: info@pipeliningsupply.com.
Quik‐Coating™ 2020 System shown with new improvements
---