Ring-O-Matic Creates New Position, Director of Engineering & Product Development
July 9, 2019 by NASTT Staff
---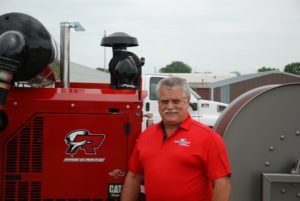 June, 2019 (Pella, IA) Ring-O-Matic is pleased to announce that Dave Langenfeld has joined the company as the Director of Engineering & Product Development. Dave comes to Ring-O-Matic with over 30 years of experience in the construction equipment industry at Vermeer Corp and most recently at Weiler. With a unique and experienced skill set in all aspects of engineering, Dave will provide fresh leadership to the engineering team and add significant value to the entire operation located in our Pella, Iowa location.
Dave has a proven record of not only leading new product develop, project timelines, efficiency improvements, and understands the changing climate of our industry, but most importantly has a proven ability to coach, mentor and drive for daily improvement across an organization
"Frankly I'm honored that someone with Dave's experience, technical skills, and desire would entertain joining our Ring-O-Matic team." stated Brian Metcalf CEO/Owner of Ring-O-Matic. "His background, experience and knowledge in product development within our industry is just not easy to come by, so we're excited to have Dave's leadership!" Metcalf said.
Ring-O-Matic is a leading provider of trailer and truck mounted vacuum excavation equipment and car wash pit cleaning machines. Founded in 1960, Ring-O-Matic products are known for their proven performance, innovation, reliability and built to last the rigors of job sites in the underground utility, municipal and water and gas markets. Headquartered in Pella IA, Ring-O-Matic employs a Sales, Engineering and Production team dedicated to building the industry' s most productive vacuum excavation machines. Ring-O-Matic products are sold worldwide through independent equipment dealers.
---