Vermeer Mid Atlantic Earns Pinnacle Award
July 15, 2019 by NASTT Staff
---
Company receives award while celebrating its 50th Anniversary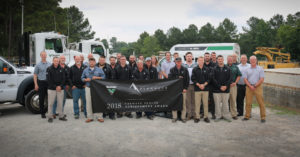 [Annapolis Junction, MD] – Vermeer Mid Atlantic (VMA) celebrated being awarded the 2018 Vermeer Pinnacle designation in recognition of its efforts to provide a superior experience for customers. The Pinnacle Award is given annually by Vermeer to select dealer partners who are top performers in sales, marketing, aftermarket support and equipment safety and functionality training for its employees and customers.
"Vermeer Pinnacle dealers provide an exemplary customer experience," said Tony Briggs, vice president of sales and distribution at Vermeer Corporation. "This award highlights dealers across the globe who consistently lead in a variety of key business performance metrics."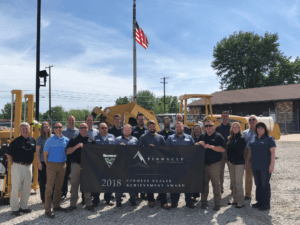 The achievement, which makes Vermeer Mid Atlantic a multiple-time Pinnacle recipient, comes at a momentous time as the company celebrates 50 years in business.
"It's a tremendous accomplishment to be considered a Vermeer Pinnacle designee, and I am truly proud of the effort and commitment from our entire team," said Mark Boyle, President of VMA. "To celebrate receiving the award in our 50th year in business is incredibly special."
Vermeer Mid Atlantic founder, John Vos, started his career at Vermeer in the cleanup crew at the Iowa headquarters, and then he diligently worked to become a demo representative. After years of dedication, John was given the opportunity to open his own dealer location in Maryland in 1969, which has developed into what is now Vermeer Mid Atlantic.
VMA now represents 12 locations spanning Maryland, Virginia, North Carolina South Carolina, West Virginia, Pennsylvania and Ohio.
Image 1: The staff in Garner, NC
Image 2: The staff in Medina, OH
To learn more about Vermeer Mid Atlantic and the services it offers, visit VermeerMidAtlantic.com.
---