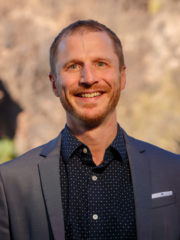 Dan Buonadonna is the Global Technology Leader for Jacobs's Condition Assessment and Rehabilitation Services (CARS) practice. He has over 17 years of pipeline analysis, design, and rehabilitation experience for over 1,400 miles of buried water, sewer, and industrial infrastructure.
As a junior engineer, Buonadonna began in the field, doing inspections on buried pipelines. Of the man-entry pipe crawling, Buonadonna jokes, "Being of modest build, it was once said that I was 'made for the work' and found myself being 'volunteered' for many of the confined space pipe crawling tasks. It taught me a healthy respect for the practical aspects of pipeline condition assessment, and also a great appreciation for the technical innovations that could improve the accuracy and safety of our work."
As a consulting engineering his focus has evolved to trenchless condition assessments, trenchless rehabilitation technologies, and buried infrastructure asset management. Speaking on the state of the trenchless market today, Buonadonna says the industry overall is robust and increasing demand has resulted in a healthy, competitive marketplace. One of the challenges, he notes, will be continuing to innovate and increasing the value proposition of a trenchless approach. Buonadonna says, "If elected to the NASTT board I would advocate for increased dialogue and coordination between the condition assessment and rehabilitation technology markets. These fields go hand-in-hand in providing solutions to our communities. In addition to the continued investment in new tools to break technical frontiers, I support improved education and understanding between owners, engineers, contractors and manufacturers to manage the risk exposure of all parties."
He has authored over 20 technical publications on pipeline asset management and holds a seat as an Industrial Advisory Board Member for the Trenchless Technology Center at Louisiana Tech University. Dan holds a Bachelor's degree in Civil Engineering from the University of Notre Dame, and a Master's in Environmental Engineering from the University of California, Berkeley. Buonadonna is a regular presenter at the NASTT No-Dig Show and is also a member of the Society's Pacific Northwest Chapter. He's also served on the No-Dig Show Program Committee and has participated in NASTT training and webinars. He's also active with the Trenchless Technology Center at Louisiana Tech as a member of its Industrial Advisory Board and is involved with the Water Research Foundation as part of Peer Advisory Committees.
"I feel the trenchless technology field is exceptionally dynamic and I enjoy the exercise of constantly applying critical thinking to new challenges, I appreciate the opportunity to serve a widespread need and I feel privileged to work with similarly dedicated professionals every day."