Director of Sales, Western States, Sunbelt Rentals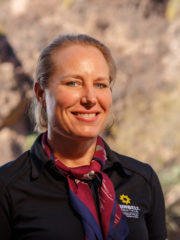 A 23 year liquids solutions and management professional, Tiffanie began her career in the early 90's in Yuma, AZ., focusing on specialty equipment rental systems and design/build liquids handling systems. Her early focus was groundwater dewatering, pump and treat systems, sewer bypass systems and construction storm water runoff management. After relocating to Northern California in 2005, the  design/build systems focus grew to include temporary plants for environmental remediation, low and medium voltage electrical power systems and compressed air systems.
Tiffanie is the now the Director of Sales for Sunbelt Rentals, Western States. She holds a BSBA from Northern Arizona University and an MBA, General Management from California State University, East Bay. Tiffanie has been a part of NASTT's No-Dig Show Program Committee since 2016, and believes the future of the industry lies in preparing the new leaders of the trenchless industry now. As such, she particularly passionate about the student programs and student chapters associated with NASTT.