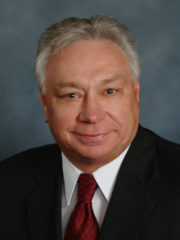 Robert H. Westphal, Michels Corporation's Senior Advisor of Operations, started at Michels in 1965 as a pipeline laborer. He steadily advanced through the ranks as foreman, superintendent, project manager, vice president, and senior vice president of Michels Corporation. In the course of his career, Bob has been, and remains, a driving force in the management and strategic growth of several of Michels' industry-leading operating divisions including Michels Communications, Michels Pipe Services, Michels Pipeline Construction, and Michels Directional Crossings.  Bob's hard work and strategic guidance have contributed to the noteworthy growth of both Michels Canada and Michels Corporation.
In the trenchless industry, Bob led Michels entry into horizontal directional drilling in 1986. Now, with Bob's vision, and the leadership of Tim McGuire, Vice President of Michels Directional Crossings, Michels is regarded as the leader in the HDD industry across the United States and around the world. Today, fifty-three years after Bob's career began, he continues to champion Michels' advancement in the trenchless technologies of HDD, direct pipe, tunneling, micro-tunneling, pipe rehabilitation, and pipeline construction. Bob's vision and personal integrity have been critical to the widespread adoption of HDD construction solutions by virtually every major utility company in the United States. In forging the acceptance of the many benefits of trenchless HDD construction, Bob has advanced the environmental stewardship goals of Michels and its customers by safely accomplishing some of the most challenging directional crossings in the world.
Colleagues regard Bob as a true statesman in the construction industry. In 2011, Bob was named Trenchless Technology Person of the Year.  In addition, Bob remains active in the Pipe Line Contractors Association (PLCA) and has served on its Board of Directors, Labor Committee and Pipe Line Industry Advancement Fund. In 2005, Bob was elected as the President of the PLCA. In 2018 Bob was recognized for his contributions to the pipeline industry when he was named an Honorary Member of the PLCA. To this day, Bob continues to serve on the Board of Trustees of the Laborer's National Pension Fund
Bob's impact and lasting influence on the trenchless industry and to the world of construction does not end with his tireless service on boards and other industry causes. Bob has always believed that his greatest and most lasting contribution to the construction industry comes through the power of mentorship. It is Bob's strong investment in mentorship both at Michels and throughout this construction industry, where Bob's influence and positive contributions to the industry are on display. On a regular basis, colleagues at Michels, and elsewhere in the construction industry, seek out Bob's guidance and follow his strong examples of vision in the trenchless construction industry and personal integrity in business.
Bob resided with his wife, Jone, in Fond du Lac, Wisconsin. He was involved with several civic and charitable causes. They have four sons and 12 grandchildren.