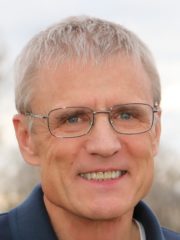 Lynn Osborn has spent his entire professional career working in the water and wastewater industries, with 35 of those years in the trenchless technology industry. He joined what is now known as Aegion (Insituform Technologies) in 1984 when few public works officials had ever heard of the term trenchless technology, let alone dared to try it on their aging pipes. Today, cured-in-place pipe (CIPP) is the preferred method of pipe rehabilitation across North America, as well as the world.
Lynn grew up in a small town on the Kansas plains working his way through college part of a wheat harvest crew. He graduated from Kansas Wesleyan University in 1969 with a double major in chemistry and biology. Osborn was drafted in the Army three months after graduation and served a tour in Vietnam. After his discharge, he went back to school, enrolling at the University of Kansas. He graduated in 1974 with bachelor's and master's degrees in civil engineering.
His first professional job was with Wilson & Co., Engineers and Architects, in Salina and Wichita, Kan., where he planned, designed and constructed sewers, water lines and water and wastewater treatment plants from 1975-1984.  Lynn's first look at trenchless technology occurred when the firm took on some pipe rehabilitation projects, mostly sliplining. The trenchless terminology wasn't exactly mainstream at that point.
In fall 1982, Lynn got a better look at trenchless technology when he attended a St. Louis tradeshow that later became known as WEFTEC. There, he met trenchless industry trailblazer Bob Affholder, who built both Affholder Inc. and Insituform Mid-America into leaders in the pipeline rehabilitation and tunneling markets. Two years later he joined Insituform of North America (later known as Insituform Technologies) as its associate technical director, working with Tom Driver, the technical director and helping the trenchless industry and the CIPP innovator grow from relative obscurity to global giants.
After 31 years and spending more recent years concentrating on Engineering and R&D, Lynn retired from Aegion in 2014. He decided to take on a part-time industry role as the technical director of the National Association Of Sewer Service Companies (NASSCO), an organization he had long participated in over the years. He spent his time there reviewing and writing for magazine articles, specifications and manuals, presenting papers at conferences, organizing technical sessions and workshops, teaching training courses and rewriting the Inspector Training and Certification Program CIPP Manual and training aids.
Lynn recently stepped down as technical director; however, he continues his NASSCO involvement. In addition, on October 1, 2019, Osborn became President of the American Society of Civil Engineer's Utility Engineering & Surveying Institute.
Beyond the trenchless walls, Osborn enjoys spending time with his wife of 52 years, Ivy, as well as his daughters' families, Julee and husband Dennis and Valerie and husband Ryan. He also enjoys being grandpa to two granddaughters and two grandsons, ranging in age from seventh grade to a mid-twenties.
Lynn and his wife enjoy church activities and summer trips to the mountains. They were avid bicyclists, having ridden across the state of Missouri on the Katy Trail 13 times for fund raisers, raising money for Habitat for Humanity. Osborn is also a lifelong runner.