BTrenchless Uses Akkerman MTBM on Salt Lake City Sewer Project
July 30, 2019 by NASTT Staff
---
Project Profile:
Salt Lake City Public Utilities is increasing capacity and upgrading a portion of their sanitary sewer collection system from 1500 S – 2700 W to Redwood Road. The project bid in January 2019 and Whitaker Construction was selected as the low bidder. BTrenchless Inc. was awarded the grade-critical tunneled crossing of I-215, a major interstate in Salt Lake City. The tunnel was designed as a 466LF long, 48″ diameter steel casing with a future 30″ HOBAS carrier pipe skid in it afterwards. BTrenchless decided to upsize the casing to 51″ diameter to match the dimensions of their Akkerman SL51 Microtunnel Boring Machine (MTBM). The center of the tunnel was about 7FT below the water table with extremely soft soil consisting of lean clay, fat clay, and silty sand. This type of ground water and soil condition suits itself well for a MTBM installation method.
During design the team discovered an old as-built drawing of a now abandoned 12″ diameter concrete pipe in the path of the tunnel at approximately 320LF out. A series of GBM pilot tubes were installed ahead of the 51″ diameter tunnel launch in an attempt to proof the drive and find this pipe. Two of the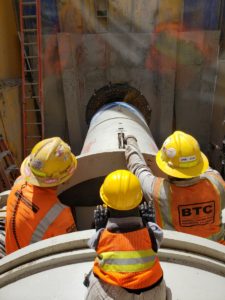 four pilot tube drives were deflected in this area; indicating that something was out there. After lots of internal discussions the decision was made to carry on with the original design and attempt to tunnel through this questionable area at 320LF out. While carefully tunneling through this area, a large pocket of river rock was discovered, but no remnants of any concrete pipe were ever found. This was great news for the project team. The end result was a successfully installed 51″ casing under I-215 for Salt Lake City Public Utilities, allowing Whitaker Construction to continue on with their project as planned.
Photos: Morty the Tunnel Rat and two members of the BTrenchless Crew getting ready for an Akkerman MTBM launch.
---