Deep Trekker Offers Think Tank Friday: Robotic Solutions for Optimizing Trenchless Operations
June 16, 2020 by NASTT Staff
---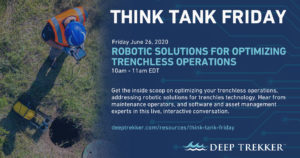 Join Deep Trekker for a free virtual conversation on Friday, June 26 from 10-11AM EDT.
FROM SEWER TO STORM TO CLEAN WATER PIPE INSPECTIONS
This week's "Think Tank Friday" addresses robotic solutions for trenchless technology. Providing tools, techniques, and best practices, this panel gives you the inside scoop on optimizing your trenchless operations. Hear from maintenance operators, and software and asset management experts in this live, interactive conversation.
Visit Deep Trekker's website to register.
---