NASTT Announces Abbott Innovative Product Award Finalists
April 4, 2023 by NASTT Staff
---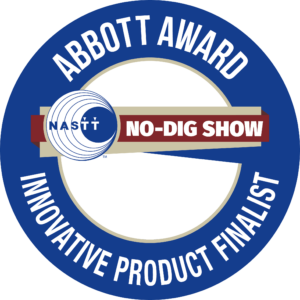 The North American Society for Trenchless Technology (NASTT) is pleased to announce the finalists for the 2023 Abbott Innovative Product & Services Award competition.  The Abbott Innovative Product & Services Award celebrates companies with a state-of-the-art product or service developed or re-launched in the last 2 years making a significant impact in advancing the trenchless industry in the areas of rehabilitation or new installation. Finalists will be judged on innovation (concept, method, development); value (need, advantages, cost); and, impact (sustainability, social/environmental responsibility and potential).
VISIT FINALISTS AT THE INNOVATIVE PRODUCTS FORUM AND IN THE EXHIBIT HALL
Competitors must be in attendance at the NASTT No-Dig Show as an exhibitor or sponsor and present a product overview at the Innovative Products Forum on Monday, May 1 from 9:55-11:35 a.m. in room D140.  Attendees can visit exhibiting finalists in the Exhibit Hall. Winners will be announced immediately following the Forum at the Exhibit Hall Ribbon Cutting Ceremony at 11:40 a.m. Presentations from all the finalists will be posted online following the No-Dig Show.
NEW INSTALLATIONS
Ditch Witch | Booth 119
AT120  All-Terrain Horizontal Directional Drill
Submitted by Sean Hubbard, Marketing Communications Manager
Vermeer Corporation | Booth 714
Vermeer D550 HDD
Submitted by Madison Devin, Product Marketing Specialist
REHABILITATION
CPM Pipelines | Booth 108
BulletLiner SystemTM FFRP  AND Acquaint's Acquarius
Submitted by Chris MacDonald, President
HammerHead Trenchless | Booth 308
HydraSlitterTM AND RS BlueLine System
Submitted by Jeff Urbanski, Sr. Manager, Marketing & Training
QuakeWrap, Inc. | Booth 634
StifPipe®
Submitted by Firat Sever, Pipeline Division Manager
SAERTEX multiCom LP | Booth 232
SAERTEX-LINER® H2O
Submitted by Thijs Teepe, North American Manager, Pressure Products & Training
Sewer AI Corporation | Booth 454
Sewer3D
Submitted by Eric Sullivan, Director of Business Development
Sunbelt Rentals | Booth 615
PumpSentri
Submitted by Ladd Gould, National Strategic Customer Manager
"The Abbott Innovative Product Awards represent a fantastic opportunity to showcase ambitious developments from the trenchless industry and celebrate the companies making a difference in the profession," praised NASTT Executive Director, Matthew Izzard.  "NASTT applauds these new opportunities and the teams furthering product innovation." To learn more about NASTT awards, visit. nasstt.org/awards.
---