North American Society for Trenchless Technology 2023 Innovative Product Award Winners
August 2, 2023 by NASTT Staff
---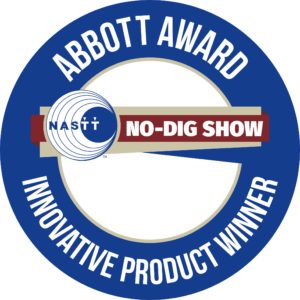 North American Society for Trenchless Technology Announces 2023 Innovative
Product Award Winners
The North American Society for Trenchless Technology (NASTT) announced the 2023 Abbott Innovative Product & Services Award winners at the NASTT 2023 No-Dig Show in Portland, Oregon. The Abbott Innovative Product & Services Award celebrates companies with a state-of-the-art product or service making a significant impact in advancing the trenchless industry in the areas of rehabilitation or new installation.
The selected winners met the highest-level of standards for each category. Products were judged on Innovation (concept, method, development); Value (need, advantages, cost); and Impact (sustainability, social/environmental responsibility and potential).
"It has always been a goal to bring breakthrough innovative trenchless technology to the forefront of the profession," said Matthew Izzard, NASTT Executive Director. "The Innovative Product & Services Award is a testament to trailblazers whose skill, ingenuity and vision impact underground infrastructure development and improvement techniques, promote sustainability and protect the environment."
Winners
In the category for New Installation, the award was given to Ditch Witch for its AT120 All-Terrain Horizontal Directional Drill. Built to boost jobsite uptime, the AT120 gives underground construction operators the power and stability needed to push through tough ground conditions, streamlining fiber, pipeline and utility installation projects. As the largest AT drill in the world, the AT120 improves jobsite efficiency for previous mid‐ and maxi‐size drill owners, as it uses less drilling fluid, resulting in decreased jobsite waste, minimized cleanup and reduced environmental impact. For more information, contact Jeff Davis, HDD Product Manager at jdavis@ditchwitch.com or visit ditchwitch.com.
In the category for Rehabilitation, the award was given to Sunbelt Rentals for| PumpSentri, an advanced standalone bypass monitoring system that can fully integrate into a bypass pumping system. PumpSentri Remote Monitor allows for continuous real-time pumping system information to be sent to a cloud‐based platform for data logging system pressure, suction vacuum, wet well surcharge, flow, vibration, and all the engine telematics. This new technology allows for remote monitoring, and the ability to see what cannot be seen in a bypass system in order for the crew to precisely dial in to bypass operations and mitigate any potential issues before they occur. For more information, contact Ladd Gould, National Strategic Customer Manager at ladd.gould@sunbeltrentals.com or visit sunbeltrentals.com.
Finalists
NASTT also honors the finalists in each category:
New Installation
Vermeer Corporation for Vermeer D550 HDD | vermeer.com
Rehabilitation
CPM Pipelines for BulletLiner SystemTM FFRP | cpmpipelines.com
CPM Pipelines for Acquaint's Acquarius | cpmpipelines.com
HammerHead Trenchless for HydraSlitterTM | hammerheadtrenchless.com
HammerHead Trenchless for RS BlueLine System | hammerheadtrenchless.com
QuakeWrap, Inc. for StifPipe® | quakewrap.com
SAERTEX multiCom LP for SAERTEX-LINER® H2O | saertex.com
Sewer AI Corporation for Sewer3D | sewerai.com
Presentations about each product were made at the Innovative Products Forum at the NASTT 2023 No-Dig Show and are available online via NASTT on YouTube. To learn more about NASTT awards, visit nastt.org/awards. The award is named for the late Joseph L. Abbott, Jr., an active NASTT member since its founding in 1990 and a champion of innovation.
---