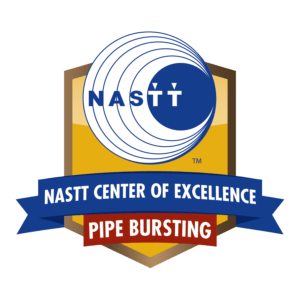 Founded in 2017, NASTT's Pipe Bursting Center of Excellence is dedicated to the trenchless pipe bursting method and its full breadth of capabilities for potable water, gas, electrical and sewer applications.
Establishing a group focused on driving excellence within the discipline of pipe bursting creates energy and engagement with the trenchless industry and beyond, while continuing to fulfill NASTT's mission to advance trenchless technology and promote its benefits.
The Pipe Bursting Center of Excellence provides leadership in education, standards, training and elevating the profile of the method throughout the construction industry. In addition, the group works on the refinement of best practices and acts as a resource and forum for utilities, contractors and manufacturers to share information and continue to move the pipe bursting method forward.
Publication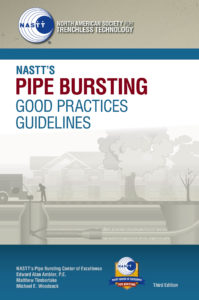 One of the first initiatives of this Center of Excellence was the 2019 release of the third edition of NASTT's Pipe Bursting Good Practices Guidelines Manual. Prepared by industry experts, the Guidelines Manual was first published in 2005, updated in 2011 and has served as the basis for NASTT Pipe Bursting Good Practices training course.
The 2019 – Third Edition has been significantly expanded to reflect the current state of the industry, including several new sections and a more hands-on field applications construction approach. The peer reviewed, non-commercial Pipe Bursting Good Practices Guidelines Manual is co-authored by Edward Alan Ambler, Matthew Timberlake and Michael E. Woodcock in conjunction with TT Technologies, Inc.; Underground Solutions Inc. – Aegion; and HammerHead Trenchless Equipment. The Guidelines Manual is available as a professionally bound hardcover book (176 pages) and is available from the NASTT online bookstore.
Training Course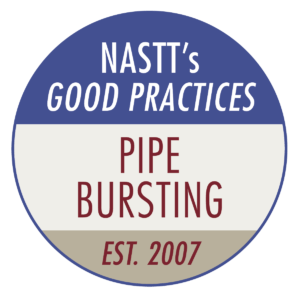 NASTT offers multiple in-depth, high quality courses each year in cities throughout North America covering targeted trenchless topics including NASTT's Pipe Bursting Good Practices Course, established in 2007.
You will find that our course content is of the highest quality as the material is thoroughly peer-reviewed for consensus-based information and non-commercialism. We often hear from attendees how pleased they are with the high-level of information and instruction offered by our experienced course instructors. We continually strive to improve the quality of the entire educational experience for our attendees through course evaluations and feedback. Earn valuable Continuing Education Units (CEUs) for your participation. Click here to view the current sample agenda of the Pipe Bursting course. Visit our online training calendar to check for upcoming courses in your area.
Webinar
NASTT offers a free webinar series to help the underground construction community expand their trenchless knowledge. This training on trenchless rehabilitation and new installation features top experts in the field. Attendees receive education from the convenience of their home or office, yet are able to actively participate using a Q&A platform.
Our recent Pipe Bursting webinar hosted a discussion on pipe bursting with the intent to educate owners and their agents of the benefits of this proven, alternative trenchless technology.
Industry experts from the NASTT membership presented this complimentary webinar:
Alan Ambler, PE, LEED AP, AM Trenchless (Moderator)
Matthew Timberlake, Ted Berry Company LLC
Michael E. Woodcock, Portland Utilities Construction Company, LLC
Click here to instantly watch the Pipe Bursting webinar archive!
Committee
Click here to view the list of current NASTT members that volunteer their time to the Pipe Bursting Center of Excellence.
The committee meets throughout the year, with at least one in-person meeting held in conjunction with the Annual NASTT No-Dig Show.
If you'd like to be involved with the Pipe Bursting Center of Excellence, contact us!