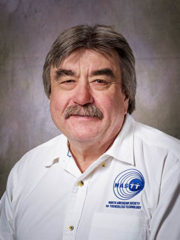 George Ragula is the founder and CEO of RagulaTech, a consulting company specializing in all facets of utility engineering, operations and construction. Prior to starting RagulaTech, he worked at Public Service Electric and Gas where he played a leading role in gas industry research, design, development and deployment where was directly involved with the development and implementation of many innovative technologies utilized by the gas industry. His many years of work in this area, combined with his comprehensive practical knowledge of day-to-day operations, have specifically focused on the development and technology transfer of various trenchless technologies for gas industry applications.  He is a recognized leader in the industry and has spent the last 35 years of his 44-year career in the gas industry committed to the ever-growing technologies in trenchless construction.
George has a very diverse and comprehensive background in gas distribution engineering and operations during his extensive career in the gas industry.  Prior to joining PSE&G in 1988, he held various positions at Brooklyn Union Gas in engineering, operations, construction, R&D and management.
George has published over 100 papers and reports, has given numerous presentations and has received several industry awards recognizing his work. He received his BS Mechanical Engineering from Polytechnic Institute of Brooklyn in New York.