The South Central Chapter was established in 2015 to serve the members of NASTT from Oklahoma, Texas and the south central area of the United States.
Call for Abstracts- 5th Annual South Central Conference:
The Chapter is currently accepting abstracts. The deadline to submit abstracts is June 5th, 2020. Click here to download the South Central 2020 Abstract Form . Email your completed form to John Matthews – matthews@latech.edu.
Case studies, new products and methods, trenchless research and innovation and planned methodology changes relating to the following trenchless technologies are being accepted:
Lining/Sliplining/Coating
Pipe Bursting/Splitting Eating/Extraction
Tunneling
Microtunneling/Pipe Jacking
Horizontal Directional Drilling
Auger/Case Boring
Inspection/Maintenance Technologies
Subsurface Utility Engineering
Complete the form below to submit an abstract.
The South Central Chapter is excited to bring the 5th annual No-Dig North Show to the Town Center Marriott Conference Center in Sugar Land, TX on October 5th & 6th, 2020.
The show will consist of one day of technical paper presentations and industry exhibits in the trenchless technology field. 2 Pre-event Good Practices Courses on CIPP & Pipe Bursting will also be available to attend on Monday, Oct. 5th, 2020 followed by a happy hour reception for all attendees.
Chapter Contact
Alan Goodman, Chair
Website
coming soon!
Chapter Magazine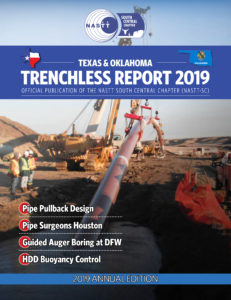 Click on the image to download the magazine
Click here to download the media kit to learn more about advertising in the South Central Journal!
Officers
Chair – Alan Goodman
Vice Chair – Jonghoon "John" Kim Ph.D.
Treasurer – Josh Kercho, P.E.
Secretary – Luis Cuellar
Directors
Director of Membership – Seth Matthesen
Director of Marketing – Justin Taylor