PIPE Cure Offers a Better Way to Restore and Protect Underground Pipes
October 20, 2020 by NASTT Staff
---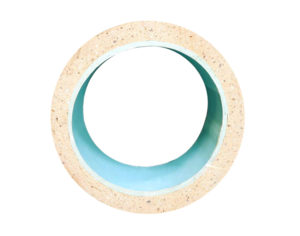 October 2020—Crosslink Technology Inc. has developed PIPE (Pressure Infused Protective Epoxy) Cure, a fast, easy, and cost-effective way to completely rehabilitate the inside of underground pipes, specifically laterals.
PIPE Cure provides a less destructive and less costly alternative to digging out underground pipes for repair, and it also provides unique advantages over the traditional CIPP (Cure in Place Pipe) restoration products.
While CIPP is a widely used trenchless technology, it can use unsaturated styrenated polyester resin, which may give concern to volumetric shrinkage, odor, adhesion/strength, and sensitivity to temperature.
Crosslink Technology Inc.'s PIPE Cure has been formulated to have:
Excellent strength and adhesion (flexural modulus of over 500,000 psi and flexural strength of 7000 psi)
Exceptionally low linear shrinkage (0.0001 inch/inch)
No odor
Ability to cure in underground temperatures as low as 10°C/ 50°F (without a heat source AND regardless of the ambient temperature when it was mixed)
Excellent wetting out of fiber in the liner
Better health and safety rating than styrene
With Crosslink Technology's PIPE Cure, you will get a safe, easy, budget-friendly cure for your underground pipe repair problems.
About Crosslink Technology Inc.:
 At Crosslink Technology Inc., we deliver innovative thermoset solutions which make a real difference to our customers' business. We produce a wide range of Epoxy and Polyurethane applications and Custom-cast Electrical components which lower processing costs, improve product quality, and boost profitability.
Since 1981, we have dedicated ourselves to staying on the leading edge of technical innovation, creating solutions tailored to customer needs and processes.
Today our dedicated and knowledgeable workforce produces applications embraced by companies in the United States, Mexico, Australia, and the Far East.
For More Information:
Christa Foy
Product Manager
Crosslink Technology Inc.
6380 Viscount Rd.
Mississauga, ON   L4V 1H3 Canada
Cell: (437) 244-7620
---