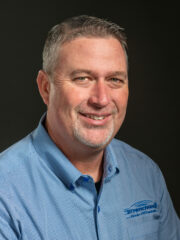 With more than 26 years in civil utilities construction, Chris Knott began his career as a laborer and quickly progressed to an operator for an auger bore crew.  He then advanced to supervisor, overseeing the auger bore crews, pipe ramming crews and the directional drilling operations. Chris enjoyed working with a variety of trenchless methods, and ultimately took on project management and estimating.
Chris began working at BT Construction, Inc. in 2005 in the role of both trenchless estimator and project manager.  He has been integral to the formation of their trenchless division, BTrenchless, and is currently the lead trenchless estimator, reviewing all work involving bores and tunnels.  Additionally, his expertise is utilized to market BTrenchless, Inc. as the region's premier tunneling contractor, showcasing their ability to perform Pipe Ramming, Auger Boring, Pilot Tube, TBM, Microtunnels, Hand Tunneling and Slip Lining as the Director of Business Development.
Over the years, Chris has become a valuable resource for engineers and owners alike, helping to determine the best trenchless methods in a wide array of soil conditions.   He has a passion for sharing the capabilities and opportunities of trenchless construction, helping to inspire young engineers by presenting the applications of trenchless construction at annual presentations, hosted by The Colorado School of Mines (Microtunneling Short Course) and the University of Colorado-Boulder.
His natural ability to convey an aggressive but attainable game plan stems from decades of coaching lacrosse.  Chris often brings the enthusiasm of a championship game to his professional endeavors, as witnessed in the organization of the inaugural Rocky Mountain NASTT No-Dig in Denver in 2010.
Involved with RMNASTT since its inception, Chris serves on its board as an officer, helping with the local NASTT show, clay shoot, and recently contributing to the Program and Auction Committee for the National show.
Chris continues to contribute fully to the foundation and growth of the trenchless industry and progress the NASTT membership.   He generates energy and provides expertise to all his pursuits, both on and off the field or in this case, in and out of the field.