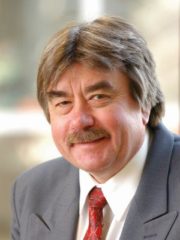 George Ragula is responsible for evaluating cutting edge technologies that increase efficiency and effectiveness of operations through his leading role in gas industry research, design, development and deployment where he has been directly involved with the development and implementation of many innovative technologies utilized by the gas industry. His many years of work in this area have specifically focused on the development and technology transfer of various trenchless technologies for gas industry applications.  He is a recognized leader in the industry and has spent the last 31 years of his 40 year career in the gas industry committed to the ever-growing technologies in trenchless construction.
George has a very diverse background in gas distribution engineering and operations during his extensive career in the gas industry.  Prior to joining Public Service Electric & Gas (PSE&G) in 1988, he held various positions at Brooklyn Union Gas in engineering, operations, construction and management.
He is a member of the American Gas Association (AGA) where he services as Vice-Chair of the Construction Operations Committee, American Society of Mechanical Engineers, Society of Gas Operators where he served as President from 2014-2015, and the New Jersey Society of Asphalt Technologists.  He serves as Treasurer of the Northeast Gas Distribution Council and was actively involved as a Project Advisor for the Gas Technology Institute Operations Technology Development Program. George served as Chair of the Board of Directors for the North American Society for Trenchless Technology from 2011-2012 and served as Program Chair for the Annual No-Dig Conference in 2012. In addition, he served as Chair of the NYSEARCH – Northeast Gas Association R&D Committee from 2004-2006 and continues to serve as a technical project advisor for that group. George also previously served as a Distribution Project Advisor for the Gas Research Institute for 15 years.
George has published over 50 papers and reports and has presented numerous papers. He has been honored with several  AGA awards including the 2000 Milton W. Heath Sr. Memorial Award for his contributions in the field of leak detection, the 2004 Distribution Achievement Award to recognize his outstanding contributions to the science and art of gas distribution, the 2006 Acker Medal and Award for his outstanding paper and presentation, "Robotics Technology Goes "Live" for Repairing Gas Mains"; and the 2009 John B. McGowan Sr. Research Award for his R&D contributions to the gas industry. All these gas industry awards recognized George for his outstanding contributions that focused on applications of various trenchless technologies.
He received his BS Mechanical Engineering from Polytechnic Institute of Brooklyn in New York.
George is an avid technical diver, enjoys skiing and is a corvette collector where he competes in amateur racing.