Chris Macey has worked in the trenchless industry as a consultant, mentor, educator, and leader for over 40 years.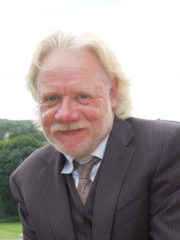 Chris Macey has worked in the trenchless industry as a consultant, mentor, educator, and leader for over 40 years.  He has developed large, sustainable programs for condition assessment and rehabilitation that have facilitated the widespread deployment of trenchless technologies across North America and globally.  He has worked on numerous complex assessment and trenchless rehabilitation projects over his career including both shallow ground tunneling and extensive use of a diverse array of lining techniques.
Trenchless has been a "way of life" for Chris; growing up in a marketplace (Winnipeg, MB) where very innovative horizontal earth boring (HEB) technologies were patented in the early 1970's and cured-in-place pipe (CIPP) was piloted in 1978.  Chris has worked at AECOM since 1978 (his legacy company from 1978 to 2004 was UMA Engineering).  In the early 1990's he became the National Technical Specialist for Canada and since the early 2000's has worked as AECOM's Technical Practice Leader for Condition Assessment and Rehabilitation for the Americas.  In addition to a large body of work for municipal clients across North America, he has also provided extensive design, engineering and quality assurance support to many CIPP and other trenchless contractors in both Canada and the USA for gravity and pressure pipe applications.
Chris is a widely published author and presenter having presented or co-authored over 140 papers since 1985.  He has been a member of NASTT since 1997 and has written and taught many courses on Condition Assessment, Pipe Design, and Trenchless Design and Rehabilitation for NASTT, AWWA, ASCE and both the American and Canadian Precast Concrete Pipe Associations.  Chris was a co-author of both the NASTT CIPP Good Practice Guidelines course and manual.  He has been a frequent instructor of the course all across North America since 2006 and in 2015 and 2018, delivered the course in Australia and New Zealand.  Chris received the 2016 CATT Award of Excellence for Outstanding Service to the trenchless industry and has played a major role in 15 projects that have received Consulting Engineering Awards of Excellence across 5 different provinces in Canada.  Chris received his Engineering Degree at University of Manitoba and is a registered Professional Engineer in British Columbia, Alberta, Saskatchewan, Manitoba, and Ontario.
Chris and his wife Chrystal live in Winnipeg, MB along with daughter Aurora, her significant other Mikey; and two dogs, four cats and three kittens (came in as fosters and now reside with failed foster parents).  When they have time, the C2 duo love to travel and try out different golf courses around the planet.