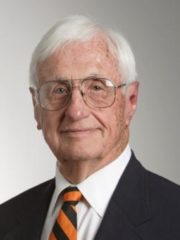 In 1949, Edwin successfully produced the world's first service-line trencher to replace the manual work involved with installing underground utility services. This machine created a new industry, and launched a line of Ditch Witch® trenching products manufactured for use around the world.
Edwin and his father operated a small machine shop which was reborn as The Charles Machine Works, Inc. and the company became the world leader in underground construction equipment. Home to more than 1,300 employees, the Perry headquarters boasts almost 30 acres of manufacturing space and facilities for training, testing, research, and product development.
Edwin Malzahn has guided this Oklahoma company from a small machine shop serving local farm and oil field customers to the world's leading manufacturer of underground utility construction equipment.  His contributions as an inventor, business owner and manager have changed the way the world's utility infrastructure is constructed and maintained.
In addition, Ed Malzahn is a tireless civic leader and philanthropist whose contributions have affected many organizations and individuals.  His civic activities have included volunteer service on numerous organizations and boards at local, state, and national levels.
Needs of the local community and its citizens always are a priority, and countless institutions and individuals benefit from the generosity of the Malzahn family and the Ditch Witch organization.
Edwin has received numerous awards over the years which include the Oklahoma Inventors Hall of Fame, American Rental Association Hall of Fame, Inventor of the Year, Governor's Award for Excellence in Exporting, Construction Equipment Hall of Fame, Oklahoma State University Hall of Fame, and the National Employer Support Freedom Award.
The Ditch Witch family was deeply saddened to announce the passing of their company's founder and industry icon Ed Malzahn on December 11, 2015 at the age of 94.