NASTT Announces Abbott Innovative Product Award Finalists
March 8, 2022 by NASTT Staff
---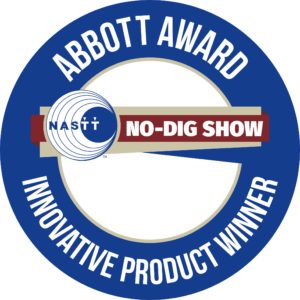 Register for the 2022 No-Dig Show here!
The North American Society for Trenchless Technology (NASTT) is pleased to announce the finalists for the 2022 Abbott Innovative Product & Services Award competition.  The Abbott Innovative Product & Services Award celebrates companies with a state-of-the-art product or service developed or re-launched in the last 2 years making a significant impact in advancing the trenchless industry in the areas of rehabilitation or new installation. Finalists will be judged on innovation (concept, method, development); value (need, advantages, cost); and, impact (sustainability, social/environmental responsibility and potential).
VISIT FINALISTS AT THE INNOVATIVE PRODUCTS FORUM AND IN THE EXHIBIT HALL
Competitors must be in attendance at the NASTT No-Dig Show as an exhibitor or sponsor and present a product overview at the Innovative Products Forum on Monday, April 11 from 9:55-11:35am. Attendees can visit exhibiting finalists in the Exhibit Hall. The winners will be announced that evening at the NASTT Annual Educational Fund Auction in the Exhibit Hall. Presentations from all the finalists will be posted online following the No-Dig Show.
NEW INSTALLATIONS
Boyd Tech, Inc. | Silver Student Sponsor
B-Tech Connections
Submitted by Sam Boyd, President
Ditch Witch | Booth 600
AT32 All-Terrain Direction Drill
     Submitted by Sean Hubbard, Marketing Communications Manager
Herrenknecht AG | Booth 700
AVN 800 HR – MTBM
     Submitted by Michael Gross, Product Manager 
LaValley Industries | Booth 406
PITPUMP™ powered by the EMPOWER™ electric generator
     Submitted by Jorge Prince, Chief Financial Officer
 Primus Line | Booth 201
Primus Line® Overland Piping
     Submitted by Ian Lancaster, Senior Vice President
 Subsite Electronics | Booth 600
Marksman™ HDD Guidance System
     Submitted by Sean Hubbard, Marketing Communications Manager
REHABILITATION
Aegion LLC | Booth 200
CIPP Carbon Filter System
     Submitted by Dennis Pivin, VP Environmental Health, Safety & Security
AppliedFelts | Booth 427
Envirocure
     Submitted by Mark Chandler, Technical Manager
Aries Industries | Booth 233
Wolverine 2.0
     Submitted by Jim Kraschinsky, Vice President – Sales
 Electro Scan Inc. | Booth 135
Electro Scan KINGFISHER
     Submitted by Chuck Hansen, Chairman & Chief Executive Officer
HammerHead Trenchless | Booth 506
Next Generation Bluelight LED CIPP System
     Submitted by Lauren Carroll, Marketing Coordinator
HK Solutions Group | Booth 339
Monoform PLUS
Submitted by Mike Ingham, Chief Sales Officer
Nukote Coating Systems International LLC | Booth 645
360 Ringtech Robotics
     Submitted by Sanaz Ghalambor, VP of Specifications & Testing
 PipeFusion CIPP | Booth 341
PipeFusion XtremeTM
     Submitted by Richard Nawracaj, Vice President
 Waterline Renewal Technologies – LMK Technologies | Booth 522
Shorty and Stubby
     Submitted by Aaron Kaplan, Director of Product Development
"The Abbott Innovative Product Awards represent a fantastic opportunity to showcase ambitious developments from the trenchless industry and celebrate the companies making a difference in the profession," praised NASTT Executive Director, Matthew Izzard.  "NASTT applauds these new opportunities and the teams furthering product innovation." To learn more about NASTT awards, visit. nasstt.org/awards.
---