NASTT Volunteers Visit Rutgers Student Chapter
November 18, 2019 by NASTT Staff
---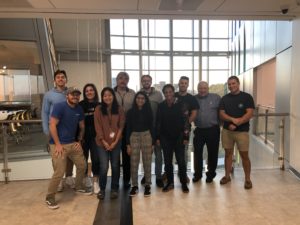 Recently two of NASTT's very dedicated volunteers, Dennis Walsh and George Ragula, both of PSE&G, met with our Rutgers Student Chapter to give a presentation.
The presentation covered a project that is the new world record diameter 42" CIPL renewal that included an extremely complicated piping geometry involving seven bends in a u-tube configuration crossing a major parkway with a significant change in vertical elevation.
The project presentation was fascinating and the students were thrilled to have two industry experts on hand to answer questions and provide insight. Future presentations and job site visits are in the works.
Pictured are volunteers and student members:
Left to right, front row: Max Ritner, Sharon Xiao, Riya Maniar and Kendi Bailey.
Left to right, back row: Amil Muminovic, Demetra Tampasis, George Ragula, Ian Walczak, Anthony Genchi, Dennis Walsh and Troy Dittenhofer.
---